There are two license types for R‑Undelete:
R‑Undelete Home
R‑Undelete Home is free for home users. It recovers files from FAT​/exFAT storage devices, like external USB hard drives and sticks, and digital photo and video camera memory cards. In addition to Quick Scan , R‑Undelete Home uses the Deep Scan procedure to find files using their file signatures , which makes R‑Undelete Home is an ideal solution for recovery lost digital photos, movies, and music.
This free version also allows its users to evaluate how the software recovers lost files from the NTFS and ReFS file systems, for which it is fully functional to save recovered files smaller than 256KB. Regardless of this limitation, all recovered files can be viewed in the build-in viewer to estimate recovery chances before you upgrade the Home version for recovery from NTFS disks.
R‑Undelete
R‑Undelete has no limitations and recovers lost files from NTFS, NTFS5 (created or updated by Win2000​/XP​/2003​/Vista​/2008​/2012​/2016​/Win7​/Win8​/Win10) and ReFS​/ReFS2+ (Resilient File System, Windows 2012​/2016 Server) disks as well as recovers them from FAT (FAT12, FAT16, FAT32, exFAT) disks. Moreover, it can recover files from any storage volumes visible to the host OS. Those can be software and hardware RAIDs, Windows Storage Spaces, and alike.
Upgrading to R-Studio
If for any reason you want to switch the license to our professional data recovery tool R-STUDIO, R‑Undelete can be upgraded to R-STUDIO for the initial price difference.
Upgrading to R‑Undelete
This procedure can be done on-the-fly even during file recovery operations. The program doesn't have to be restarted.
1. Click the Help button and select Upgrade on the shortcut menu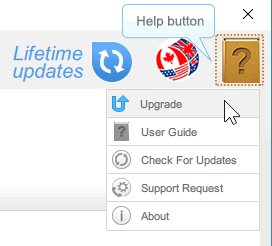 or select About on the shortcut menu and then click the Upgrade button on the About dialog box.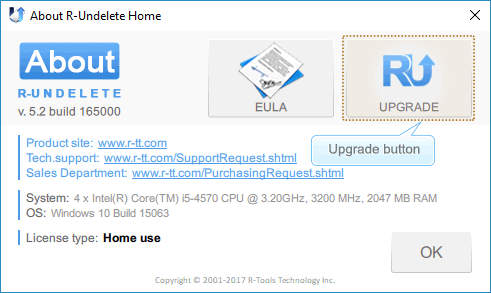 2. Enter the license key and click the OK button
The license key can be bought online on the R-TT, Inc site.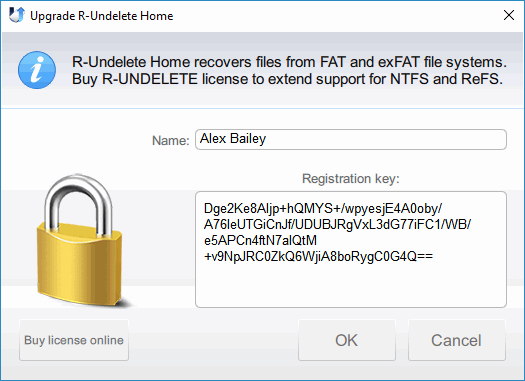 Copy and paste the key, do not try to type it in manually.
3. Read the License Agreement and click the Agree button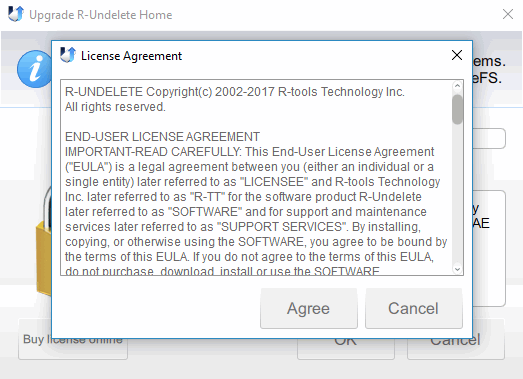 The lock on the dialog box will turn into green: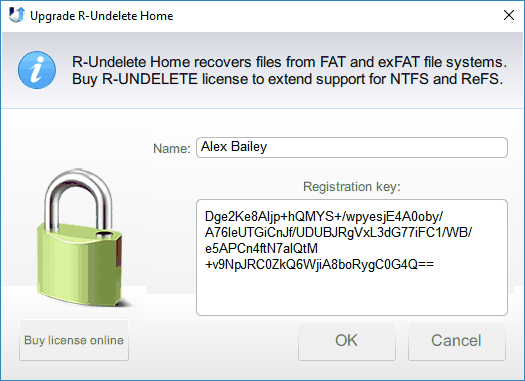 And the About dialog will change its appearance.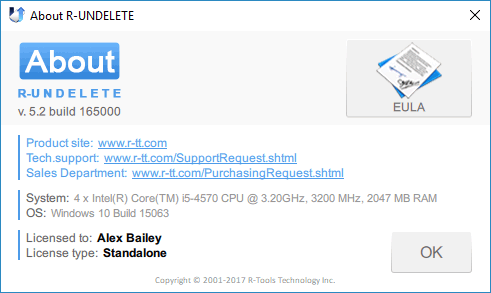 Now R‑Undelete can deliver all its power in file recovery.