You may read about how to recover files on other cases:
Get Deleted Files Back
Photo Recovery from a Deleted, Damaged or Formatted Digital Camera Memory Card
HD Video Recovery from SD cards
Recovery from an External Device with a Damaged File System
Almost every user at some point discovers that his/her computer refuses to work any more. Well, the computer can be repaired or replaced, but how does one retrieve all those valuable files, like family photos, music and movie collections, together with financial docs that it stores? This article will give you a detailed step-by-step guide on what to do to get them back using a file recovery program R-Undelete.
Problem Identification For the first step, we need to identify the source of the problem. Is this a faulty computer's hardware or software (an operating system crash, for example)?
Symptoms that the computer cannot start because of faulty software: the computer powers on, the start-up procedure begins, Windows starts loading, but then stops, and computer either hangs or goes to restart. In this case, the files can be recovered using R-Studio Emergency. Our article Emergency File Recovery Using R-Studio Emergency describes this procedure. In addition to that article, we recommend you to check the disk's S.M.A.R.T. status before file recovery.
Symptoms that the computer cannot start because of faulty hardware: the computer doesn't power on, you hear unusual beeps during startup, the startup procedure abruptly interrupts, the computer throws warning about malfunctioning hardware components, etc. In this case file recovery requires some operations with computer hardware. You have to remove the disk from the faulty computer and connect it to a working one.
But before we proceed further, you should take into consideration two things: 1. You should have some skill in working with computer hardware. 2. Watch the warranty seals. If they are removed the computer's warranty may be void.
Preparing a working computer for file recovery 1. Download and install R-Undelete. You don't have to buy the program immediately. You may wait until you're sure that you can recover your files. Then you can register R-Undelete on-the-fly. 2. Check that you have enough disk space to store recovered files. R-Undelete can save files on any local or remote disk visible to the operating system.
Preparing the disk for file recovery 1. Open the computer case and remove the disk. It's quite easy for a desktop PC, but there may be some difficulties when opening a laptop case.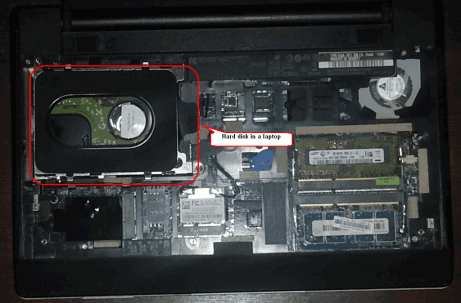 Fig.1. Hard disk in a laptop Click image to enlarge
2. Connect the disk to the working computer. You may use either a USB/SATA adapter,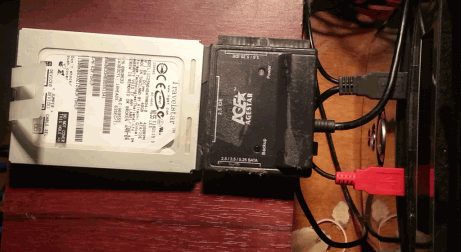 Fig.2. Disk connected to a computer through a USB/SATA adapter Click image to enlarge or connect it directly using a SATA cable.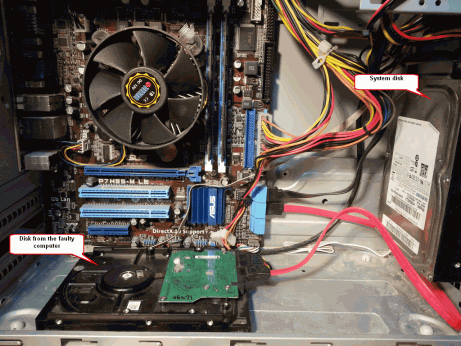 Fig.3. Disk connected to a computer through a SATA cable Click image to enlarge Note that you should connect the disk through a SATA cable only when the computer is on the power-off state.
File recovery from a removed disk 1. Start the computer. Check that the disk doesn't show any sign of hardware fault:
Your system does not recognize the disk, or it appears under an unusual name.
The hard disk makes unusual noises, clicks, starts too slowly.
SMART inspecting programs report a severe hardware failure event.b>
Important! If you believe that the hard disk is malfunctioning, DO NOT DO ANYTHING WITH IT BY YOURSELF ANYMORE! Don't try to run a scan or recovery procedure. Don't try to use some other data recovery software. Remember, tampering with a disk in this condition will surely inflict more damage to your files. At best, you'll have to pay extra money to a professional data recovery service. At worst, you'll lose all your files for good. Bring the disk to qualified data recovery professionals. They have special equipment, software, and, most important, the required skills to work with such disks.
2. Try to find the disk in Windows Explorer. If its file system is not damaged, Windows Explorer will show folders and files on it and you can just copy them without using any file recovery program. But before we strongly recommend you to check disk's S.M.A.R.T. status to see whether its conditions allow you to work with the disk. You may use R-Undelete for that. Below is described how.
3. If Windows Explorer cannot show files on the disk, start R-Undelete. Locate the disk with the damaged file system. Most likely R-Undelete won't show any file system on it. You may also look at the disk's size to tell the disk.

Fig.4. Disk with a damaged file system in R-Undelete Click image to enlarge
It's a good idea to check the S.M.A.R.T. attributes for the disk to be sure that it's in good conditions. Right-click the disk and select Show S.M.A.R.T. on the shortcut menu.

Fig.5. S.M.A.R.T. attributes for the disk with a damaged file system Click image to enlarge
If the health status is Caution, there are possible some small problems with the disk in the future, you may work with it but with cautions and regular check of these parameters. Disk imaging is recommended, although that may require additional storage space.
If the health status is Bad, the disk conditions are critical and chances of hardware failure are great. The best recommendation for this case is to stop working with the disk and bring it to professional data recovery specialists. You may though continue to work with the disk at your own risk, but disk imaging is very strongly recommended.
After checking the S.M.A.R.T. status, select the disk and click the Next button.
4. Select Detailed Scan for the lost files and Enable File Types.

Fig.6. Disk Scan Click image to enlarge
You may also want to select only those file types that are expected to be on the damaged disk. Most likely those are files with music, photos, movies, and Microsoft Office documents. To do so, click the Known File Types button,

Fig.7. List of Known File Types to search for Click image to enlarge
Click the Clear All button, and select only the file types you want to find and recover.
Then click the Next button. R-Undelete will start scanning the disk showing its progress. Scan of large disks may be quite lengthy, so some patient is required.

Fig.8. Disk Scan Results Click image to enlarge When the scan is over, click the Next button to proceed further.
5. Locate the original logical disk (If R-Undelete finds only one partition, it will skip this step.)

Fig.9. Discovered logical disks Click image to enlarge
When R-Undelete finishes the scan, it will show recognized partitions (disks that R-Undelete believes exist or existed on the hard disk).
R-Undelete shows them in different colors, depending on which elements of the partition have been discovered.
| | |
| --- | --- |
| | An existing logical disk or partition. |
| | Both boot records and file entries are found for this partition. |
| | Only file entries are found for this partition. |
| | Only boot records are found for this partition. |
If R-Undelete has found several recognized partitions, it's necessary to determine which one corresponds to the real logical disk on which the files resided. Generally, speaking, the following guidelines apply:
If you are going to recover files from a disk with a damaged file system, the right recognized partition will most likely be a green one.
If you are going to recover files from a previously deleted or re-formatted partition, the right recognized partition will most likely be a yellow one.
This however won't always be the case. Always check the recognized partition's file system, start point, and size. They should be the same for the recognized partition and the lost logical disk.
You may still have selected a wrong partition, but you'll be able to return back to this panel and select another one.
When you select a partition, click the Next button, and R-Undelete will start enumerating files on it.
6. Find lost files and mark them for recovery You may do that by the following ways:
* By browsing the folder tree.

Fig.10. Files and folders marked for recovery Click image to enlarge
* By sorting them by file types (extensions) or time stamps.

Fig.11. Files sorted by their types (extensions) Click image to enlarge Such file search is very important, as files in a damaged file system may appear in any, sometimes very strange, place on the disk.
* By direct search for specific files.

Fig.12. Search for specific files Click image to enlarge See R-Undelete on-line help: Searching for a File for more file search options.
Please note that once marked for recovery, a file or folder will remain marked even when you switch, say, from the real folder tree to files sorted by their extension. You need to explicitly unmark a file if you don't want to recover it.
While marking files for recovery, you may also estimate chances that R-Undelete can successfully recover them. Double-click a file to preview it and see the results.

Fig.13. File preview for a jpg file Click image to enlarge
8. File Recovery Now if you decide that R-Undelete can recover your lost files, you may purchase the license and register it on-the-fly without restarting the program.
When you marked all files for recovery, click the Next button and select a place to store them.

Fig.14. Where to store recovered files and recovery parameters Click image to enlarge If necessary, you may also specify file recovery parameters and options to process bad sectors on the disk. See R-Undelete online help to learn more about Recovery and Bad Sectors options.
Click the Recover button to start file recovery.
When R-Undelete finishes the process, it will display a brief report about its results

Fig.15. File recovery results Click image to enlarge
File recovery results Now you may go to the folder with the recovered files and view your files.